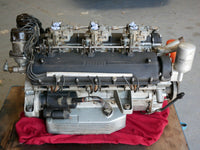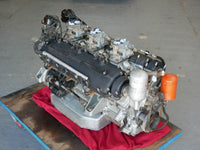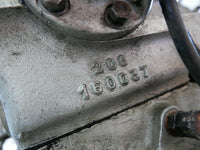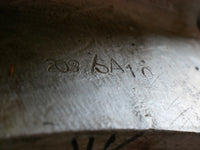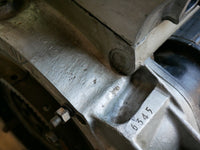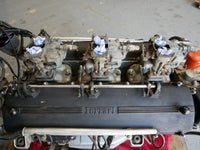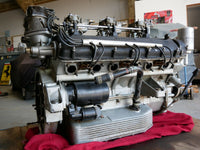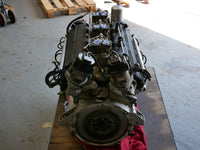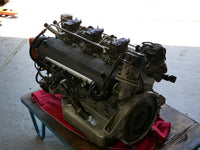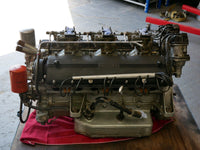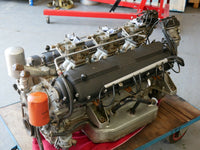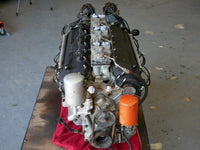 1964-65 Ferrari 500 Superfast Tipo 208 Engine
Serial number: 6345

Numero interno: SA10
As confirmed by Ferrari, this is the original engine from 6345SF - the 18th of only 36 Superfasts ever produced.
6345SF was the 1964 London Motor Show car, which in February 1967 was involved 
in a high speed crash in England and written off
. The wreckage was broken for parts and the engine sold off. In the 1970's it was fitted in a 365 GT owned by a Briton who emigrated to California (t
he mounting points are the same as four-mount 250, 275, 330, and 365 engines
). By the 1980's an engine of the correct type was fitted to that 365. The Superfast engine was carefully put away with the intention of one day fitting it to another Ferrari, which alas never happened. We found it in southern California earlier this year where it had sat in dry storage for the last 40 years.
We removed the heads and were pleased to find the internal condition to be excellent. 
The cylinders have very little wear, still with honing marks evident. The block and head faces are excellent. The valve guides have no discernible wear. 
There is zero corrosion to the water jacket. We found no damage to speak of. A Dropbox folder with 100 images documenting these parts is available to any prospective buyer.
In sum the condition is commensurate with an engine which has very few miles on it since it was last rebuilt - if it has ever even been rebuilt since it was assembled in Maranello. It should only require the most basic of rebuilds before taking to the road once again. 
The engine is complete with all its correct original ancillaries as shown in the photos, as well as the alternator and a spare flywheel (not pictured). 
If not for use in another Superfast, this monstrous V12 would make the most spectacular powerplant in some sort of Ferrari special, and you can be fairly sure you will never see another one of these offered again without a million pound car attached to it.